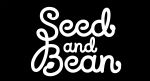 Seed & Bean
Seed and Bean is all about nature and creativity. Contemporary natural flavors blended with pure cocoa beans produce kaleidoscopic moments of pleasure!
Seed and Bean is 100% organic, ethically sourced, and all chocolates are handmade in England. They search the globe for top-quality chocolate and have been producing unique flavor combinations since 2005, using cocoa from various regions, including the Dominican Republic, Ecuador, and the Sao Tome Islands of West Africa.
Explore 23 (yes, 23!) unique flavors that will get your taste buds racing! Whether you're looking for vegan, organic, fairtrade, or kosher chocolates, Seed & Bean has got you covered!