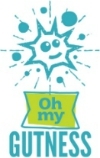 Oh my Gutness - Sparkling Fruit Drink
Oh my Gutness is an exciting new sparkling fruit drink that goes beyond just quenching your thirst. It is carefully crafted to support your gut health, making it a delicious and wholesome choice. We use water kefir grains to ferment the drink, introducing beneficial gut-friendly bacteria. Our commitment to using only organic ingredients ensures that you enjoy a natural and refreshing beverage. Plus, we've kept the sugar and calorie content low, so you can indulge without guilt. Embrace a healthier gut and treat yourself to the goodness of Oh my Gutness!
We can't find products matching the selection.
Compare Products
You have no items to compare.
My Wish List
Last Added Items
You have no items in your wish list.